Losing weight, enjoying a healthier lifestyle and following a healthy diet are amongst some of the most popular resolutions people make every January.  These are not easy to keep because the initial motivation and the genuine desire to accomplish these goals die down as life once again gets in the way.  One way to make sure that initial push is not lost is to combine it with a fun, exciting activity that doesn't feel like work, and Zumba is one of those fitness activities that has won over millions of followers not only because of its intensive, high energy, calorie-burning routines but also because of the enormous amount of fun people the world over are having with it and the strong social aspect that working out (which feels more like dancing, really) to vibrant world music brings about.
(Lea la Versión en Español al pie de la Página)
Alma Latina Online Magazine had a chance to chat with Linda Raponi, Zumba instructor and co-owner of the Harmony Center in Pickering, who told us about the positive and life-changing impact Zumba has had in her own life, and how as an instructor, she's spreading the joy, bringing it now to all the participants in the many classes she teaches.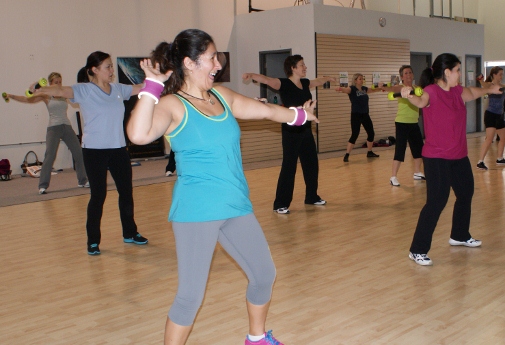 Her own journey into fitness started around 1999, after the birth of her first son.  "After my son was born, I was 180 lbs. almost," she tells us.  "I was too afraid to go to the gym, I was too intimidated– didn't feel comfortable. Then I had my second child and I was still overweight."  She began working out at home and losing the weight gradually.  She then felt comfortable enough to join a gym.  She found a dancing class there and really enjoyed it.  She was motivated enough and began to love fitness so much that she decided to become a personal trainer and also obtained her group fitness certification.
Somewhere around 2008 she stumbled across an article about Zumba and became intrigued with the program (created by Colombian Alberto Pérez in 2001).  She then decided to get Zumba certified as well and became one of the first fitness instructors to bring Zumba to Durham Region, something most people had never even heard about.
"Nobody knew what it was and everybody said, 'This is nice. This is fun.' 'Cause they're exercising but they don't realize it.  Every time you dance, you're burning calories, but we only do that when we go to a club, but some of us don't really want to go to a club.  I want to exercise, I want to have fun.  The typical exercise– elliptical, bike, you know, one hour of that, it's really boring to do that over and over again.  This, one hour flies by."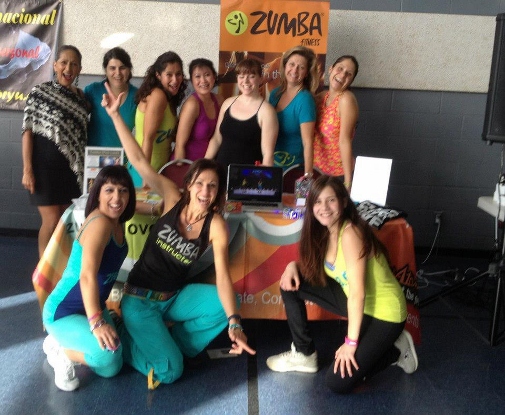 The social aspect of Zumba is a big draw for the people who join this program, says Linda.  Participants get to pretty much dance in a big group, but at the same time the routines are also targeting different muscle groups, doing cardio and also toning at the same time. "You're at a party, people become friends here.  There's a different balance because you're getting a fulfillment. Zumba has a fitness benefit, but it also has the emotional benefit of belonging, of fitting in, of being a part of the group, of having fun.  People bring friends, you meet new friends.  It's a motivation: we support, motivate and encourage each other."  The strong connections that are created within the group and the fact it's so much fun (it almost doesn't even feel like working out, even though it is) is why Linda (as many others do) thinks Zumba is not a fad, but it's here to stay.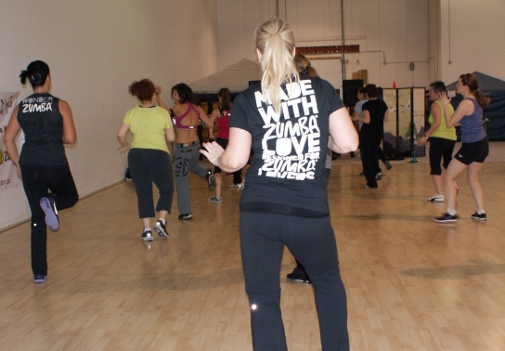 Having witnessed Linda's contagious energy when she teaches (as I have many other Zumba instructors in the past), I'm curious to know whether she has been a health buff all her life and whether her bubbly, lively and super outgoing personality are part of the reason why she has such a positive influence on the people that join her classes.  "No," she says, to my surprise.  "I liked to just hang around, sit on the sofa.  I'm not a dancer.  I came from a music background when me and my sisters were in a band.  I played the piano and the drums.  Music was always in me, but in a different way.  I was the drummer, at the back, and never I would have imagined that I would be up at the front, leading a group of women through exercise."
"It honestly changed my life," she continues, "because after my kids were born I was overweight, I was not happy. Nothing fit me anymore, I was just very depressed.  And then this came along and I was like, 'Wow, where has this been all my life? Why isn't everybody doing this?"  She assures me the joy, passion and excitement Zumba brings to her own life has made her happy.  "I found something that I'm so in love with that is working.  I'm feeling fantastic.  You're feeling more confident inside, it reflects outside."  And this in turn reflects on her whole outlook on life: her happiness is infectious to everyone around her, and this in turn gets transferred to the people that participate in her classes, as this invigorating energy just bounces off one another in a type of "pay it forward" scheme.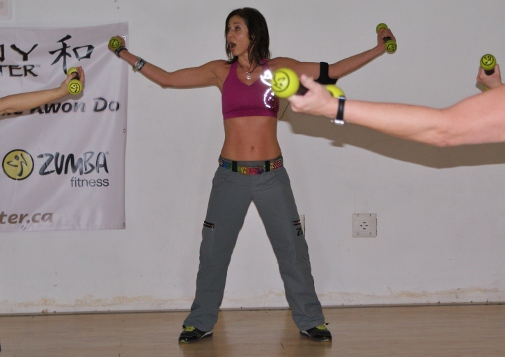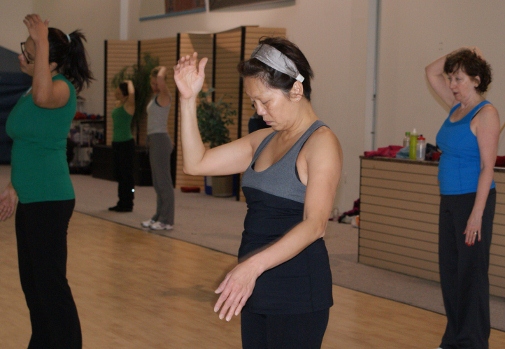 Zumba's success as a fitness program can't be argued.  The over 14,000,000 people practicing Zumba in the world right now are proof of that.  And its success trickles down onto other aspects of their lives not only because of the health benefits it provides, says Linda, but also in things like a newfound appreciation and curiosity for world music and exposure to other international dances.  Zumba has touched people across generational lines: the Zumbatonic program, for instance, is offered to children between 12 and 14 years old.  Adult participants can also modify the routines to their own pace and ability.  Linda's oldest client is 80 years old, and she comes in and though she may not follow everyone's pace, she still makes the time to come out and have some fun.
Health-wise it gets people off their couches and moving.  Even on the chilly Saturday morning when we held this interview, the place was packed and everyone seemed to forget the snow-covered, frosty air of this January morning while they were moving to the tropical melodic beats of salsa, reggaeton and more.  Linda has also witnessed some dramatic weight loss stories, with people losing 110, 60 and 50 lbs. in the few years she's been a Zumba instructor here in Durham.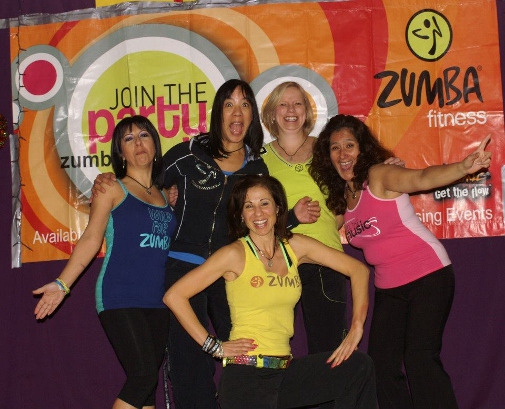 Linda herself keeps growing as an instructor to become more well rounded.  She got her CanFit Pro certification and she's about to complete her training as a nutritionist so she can be better prepared and counsel her clients on other aspects of creating healthy habits.  "I tell my clients, you can't eliminate everything from your life because you also have to enjoy it, but in moderation. One day have a cheat day, where you eat everything you want.  I promote the 80/20 rule: 80% of the time be good, the other 20% be as bad as you can be."
Something else she's doing to affect more people is getting involved with the local community.  This coming February, for instance, she will be bringing for the second time the Zumba for Hope event at St. Mary Catholic Secondary school in Pickering, in conjunction with Learning for Hope, a Pickering-based non-profit organization that builds community centres and schools in Perú and El Salvador, and also has programs in place to teach these communities how to become self-sufficient.  They held the event for the first time last year and it was a great success, with over 300 people attending.  This year they hope to pack the house to capacity again, as all the proceeds go directly to the organization and that it turn goes directly to these communities in need.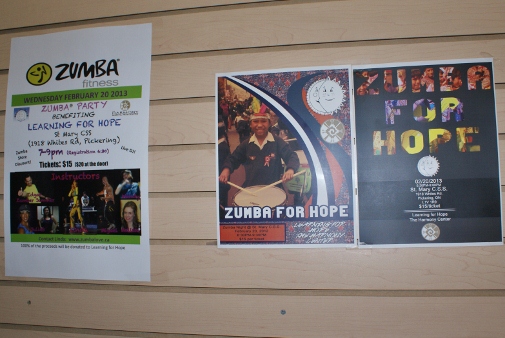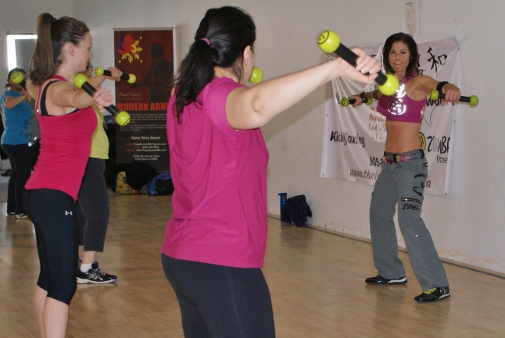 ________________________
Zumba: Una Forma de Bailar
y Ponerse en Forma en el 2013
Perder peso, mantener un estilo de vida saludable y seguir una dieta balanceada son algunas de las más populares resoluciones de nuevo año que muchos hacen cada mes de Enero.  No son fáciles de lograr porque se pierde la motivación inicial y el deseo genuino de alcanzar estas metas una vez que la rutina reinicia.  Una buena manera de asegurarse que el empuje inicial no se pierde es combinandolo con una actividad divertida, que nos haga olvidar el enorme esfuerzo que requiere hacer ejercicios.  Zumba es una de esas actividades que ha ganado millones de fanáticos no solo por ser una actividad de ejercicio intensivo y energético, que quema muchas calorías, sino tambien porque es una actividad divertidísima que está enriqueciendo las vidas de muchas personas alrededor del mundo, y de paso creando lazos sociales muy fuertes, utilizando música de todo el mundo, algo que no se logra simplemente haciendo ejercicios a diario.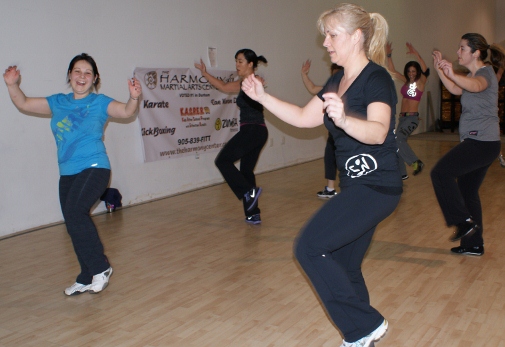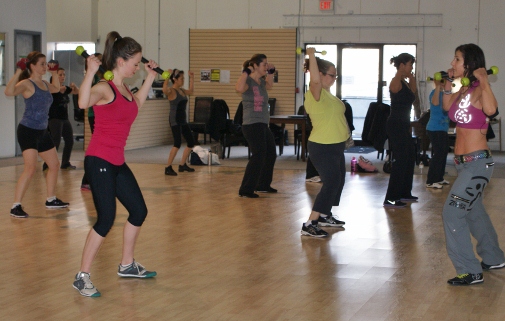 Alma Latina Online Magazine tuvo la oportunidad de conversar con Linda Raponi, instructora de Zumba y co-propietaria del Harmony Center en Pickering, quien nos contó sobre los cambios positivos y el impactante cambio de vida que Zumba llevó a su vida, y como a través de su instrucción, está logrando cambiar las vidas de aquellas personas que toman los cursos que ella ofrece.
Sus primeros pasos para llegar a tener un estilo de vida saludable se dieron en 1999, con el nacimiento de su primer hijo.  "Después que naciera mi hijo, llegué a pesar casi 180 libras," nos cuenta.  "Temía ir al gimnasio, me intimidaba la idea y no me sentía cómoda conmigo misma.  Cuando tuve a mi segundo hijo, todavía estaba pasada de peso."  Empezó a ejercitar en casa y poco a poco fue perdiendo el peso.  Ya sintiéndose un poco más cómoda, empezó a visitar el gimnasio.  Encontró una clase de baile que le gustó mucho.  Su motivación aumentó y el ejercicio se convirtió en su pasión, lo que la llevó a convertirse en una entrenadora personal, asi como a obtener su certificación como entrenadora de grupo.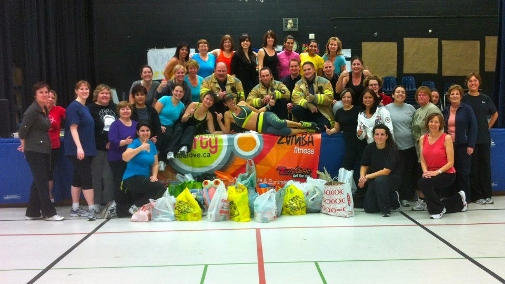 Por el año 2008 leyó un artículo sobre Zumba (creado por el colombiano Alberto Pérez en el 2001) y le empezó a intrigar el programa.  Decidió obtener su certificación y se convirtió en una de las pioneras al traer este programa físico a la Región de Durham cuando aún nadie lo conocía.
"Nadie sabía de que se trataba, y todos me comentaban, 'Esto está bueno y divertido.' Porque al bailar están haciendo ejercicios aunque no lo noten.  Cada vez que bailas, estás quemando calorías, pero para hacer eso hay que ir a una discoteca, algo que a muchos de nosotros no nos gusta hacer.  Pero si queremos hacer ejercicios y divertirnos un poco.  El ejercicio típico– máquinas elípticas, bicicletas– una hora diaria ayuda, pero es aburrido el hacerlo día a día.  En Zumba, la hora se pasa volando."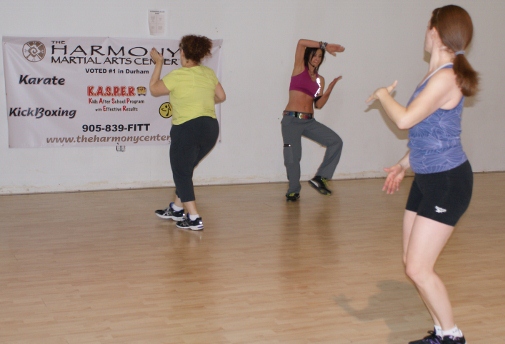 El aspecto social de Zumba es lo que ha atraído a la mayoría de personas a participar, dice Linda.  Llegas prácticamente a bailar en grupo por una hora, pero al mismo tiempo las rutinas están determinadas hacia grupos de músculos específicos, estás haciendo cardio y tambien tonifica tu cuerpo todo a la vez.  "Estás en una fiesta, conociendo otra gente.  Se crea un balance diferente porque encuentras satisfacción en varios niveles.  Zumba tiene un beneficio físico pero tambien emocional, porque te sientes parte del grupo, encajas con ellos, y te diviertes al mismo tiempo.  Hay gente que trae amigos e igual haces amigos tambien.  Eso te moviva: nos apoyamos, motivamos y alentamos mutuamente."  Las fuertes conecciones que se crean en cada grupo y el hecho de pasarla tan bien en el grupo, lo que hace que no se sienta como un programa de ejercicios, aunque si lo es, es por lo que Linda (al igual que muchos) asegura que esto no es una cosa pasajera, sino que es un programa duradero.
Habiendo sido yo misma testigo de la energía contagiosa de Linda cuando enseña (asi como de otras instructoras de Zumba en el pasado), siento curiosidad por saber si toda la vida le ha apasionado el estar en forma físicamente y si su personalidad bulliciosa, animada y extrovertida son quizás la razón por la cual ha tenido una influencia tan positiva en las personas que toman su clase.  "No," me responde para mi sorpresa. "A mi me gustaba pasar el rato sentada en el sofá.  No era mucho de bailar.  Tengo una herencia musical porque mis hermanas y yo teníamos una banda.  Yo tocaba el piano y la batería.  Siempre tuve la música en mi, pero de diferente manera.  Siempre estaba atrás, tocando la batería, y jamás me hubiera imaginado que estaría liderando un grupo de mujeres a través del ejercicio."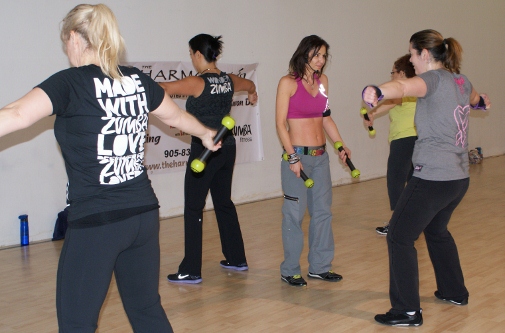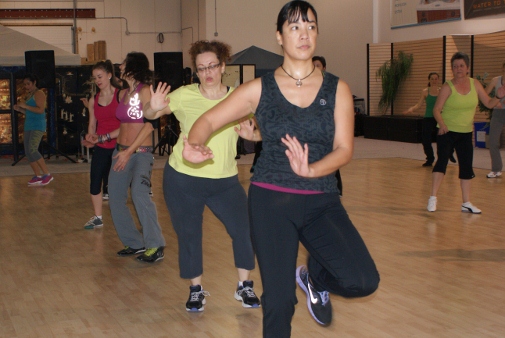 "Realmente cambió mi vida," continúa, "porque después que nacieron mis hijos estaba pasada de peso y no era feliz.  No me quedaba nada, estaba muy deprimida.  Y cuando este programa llegó a mi vida, me preguntaba donde había estado este programa y porque es que no todo el mundo lo está haciendo."  Me asegura que el deleite, la pasión y el entusiasmo que Zumba le trae a su vida la ha hecho realmente muy feliz. "Encontré algo que amo y que funciona para mi.  Esto te levanta la autoestima, lo cual reflejas al exterior."  Y esto a la vez se refleja en la visión que le ha dado a su vida: su felicidad es infecciosa a todos los que la rodean, lo cual se transfiere hacia aquellos que participan en sus clases.  Esta energía tonificante salta de uno al otro y se va propagando exponencialmente.
El éxito del programa de Zumba es indiscutible.  Son más de 14,000,000 de personas las que practican este programa de ejercicios en el mundo.  Y su éxito se filtra tambien hacia otros aspectos de sus vidas no solo por los beneficios físicos que provee, asegura Linda, sino tambien en otros aspectos como la apreciación y curiosidad que nacen por otros tipos de música y su exposición a estilos de baile de otros países.  Zumba ha afectado tambien a las personas sin importar la edad que tengan: el programa Zumbatonic, por ejemplo, se ofrece a niños entre las edades de 12 a 14 años.  Los participantes adultos pueden tambien modificar las rutinas y llevarlas a su propio paso y de acuerdo a sus habilidades propias.  Linda dice tener clientes de hasta 80 años de edad, quien viene a las clases y aunque no sigue el paso del resto del grupo, igual se toma el tiempo para llegar a la clases y pasar un rato ameno y divertido.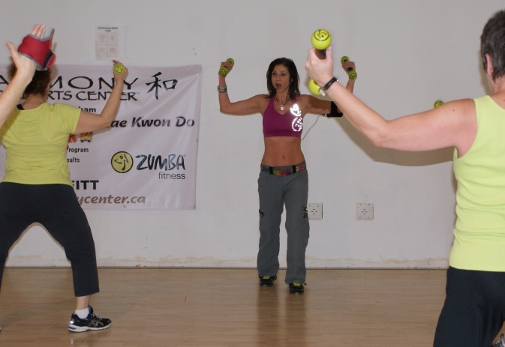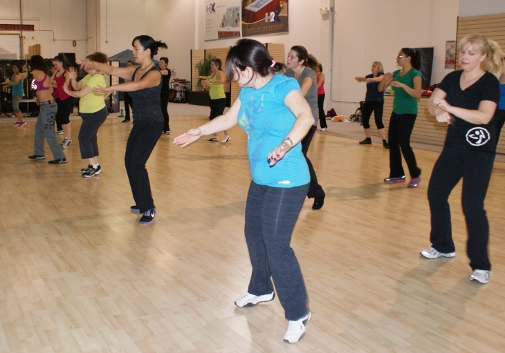 A nivel de salud, Zumba logra hacer que las personas se levanten de sus sillones y se mobilicen.  Aún en la helada mañana de Sábado cuando realizamos esta entrevista, el local estaba abarrotado y las personas alli presentes parecieron olvidar las calles cubiertas de nieve, el aire glacial de esta fría mañana de Enero, mientras se movían al ritmo melódico de la música salsa, reggaetón y más.  Linda ha sido testigo tambien de historias dramáticas en las que varias personas han perdido 110, 60 y 50 libras a través de Zumba, en los pocos años que lleva como instructora del programa aqui en Durham.
Continúa creciendo tambien como instructora para tener conocimientos más completos.  Obtuvo su certificación CanFit Pro, y está por completar su capacitación como nutricionista para estar mejor preparada para aconsejar a sus clientes en otros aspectos para establecer buenos hábitos de salud. "Le digo a mis clientes, no es necesario eliminar todo los buenos de sus vidas, porque al fin y al cabo hay que disfrutar un poco, pero todo en moderación.  Pueden permitirse hacer trampa un día, en el que pueden comer cualquier cosa que les dé la gana.  Soy de las que promuevo la regla del 80/20: 80% del tiempo hay que ser bueno, y el otro 20% tan malo como quieras ser."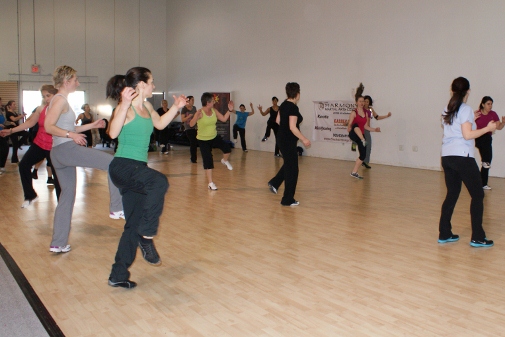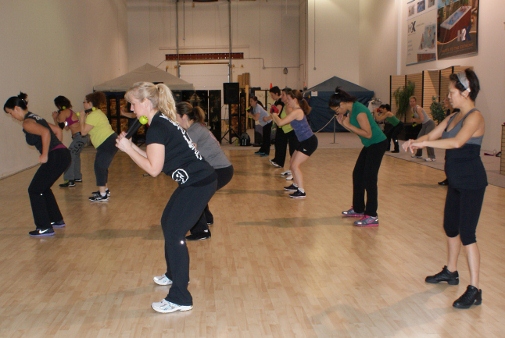 Otra cosa que está haciendo ahora para encauzar a más personas a participar es envolverse más con la comunidad de Durham.  Este Febrero próximo, por ejemplo, estará llevando a cabo por segundo año el evento Zumba for Hope en el St. Mary Catholic Secondary School en Pickering, en beneficio de Learning for Hope, una organización sin fines de lucro que construye centros comunitarios y escuelas en Perú y El Salvador, y cuenta tambien con programas que guían a estas comunidades hacia su autonomía económica.  El año pasado organizaron el evento por primera vez, y fue un rotundo éxito, llenando el local con capacidad de 300 personas en su totalidad.  Este año esperan lograr este objetivo nuevamente, y el dinero recaudado irá directamente a la organización y a su vez directamente a las comunidades que necesitan la ayuda.