After what felt like an eternity, a Pickering beloved landmark re-opened this past June after undergoing extensive renovations.  Petticoat Creek Pool was known as the largest outdoor pool in Ontario.  Though that's not the case anymore, it's been converted into what I'm sure will become a favourite amongst young and old for many years to come: the Petticoat Creek Conservation Area Splash Pad and Pool.
The newly renovated 4,100 square-metre aquatic facility includes a nice splash pad/water-play area with interactive water features, two large shallow wading pools for the little ones with interactive spray effects and also a very large 800-person capacity, fully accessible 6-feet deep swimming pool with beach entry.  This refreshing and fun oasis is made all that more scenic because it's surrounded by idyllic lush natural greenery: trees, grassy hills and green space as far as the eye can see.  It really is a great place to bring the family for a relaxing day of outdoor fun.
Petticoat Creek Conservation area is located in Pickering, at the south end of Whites Road.  Under the umbrella of the Toronto Region and Conservation Authority (TRCA), this partnership is part of The Living City project, which has a mandate to ensure the city's "built on a natural foundation of healthy rivers and shorelines, greenspace and biodiversity, and sustainable communities."  Petticoat Splash Pad & Pool is one of three similar facilities in Toronto, along with Hear Lake in Brampton and Albion Hills Conservation area in Caledon.
If you're planning to visit any of the three water-play locations, you must be aware that there are two different entrance fees: $6.50 per adult ($5.50 for seniors) to enter the park (kids 15 and younger don't pay park entrace fees) and to enter the pool the fee is $4.75 per person (children under 2 get in free).  This can get a little costly, depending on the number of people visiting.
To offset this cost, TRCA offers individual or family memberships.  Individual memberships are $75 and a family of up to four people can purchase a $135 membership, which entitles them to free entry to all the TRCA parks (including Petticoat Creek, Heart Lake and Albion Hills) and offers discounts on individual pool entry fees ($2.75 per person, but must show Membership card for discount to apply).  These memberships are valid for one year.  The Petticoat Creek Splash Pad & Pool also offers a 10-pass booklet for $38.  The booklet costs the same at Heart Lake and it costs $30 at Albion Hills.
Though summer is waning and the aquatic facility will be closing as of Monday, September 3rd, there is still plenty to do in and around the park itself.  There are many barbecue and picnic areas, which can be reserved/rented for groups or family events and gatherings at a cost ranging from $125 to $300.  There are also vast grass open fields, walking, jogging or biking paths, hiking trails and also access to the beach in Lake Ontario; something fun to do on a nice, sunny Fall afternoon.
While the weather's nice, however, why not take advantage of this newly renovated aquatic facility on this our last long weekend of the summer of 2012?  The weather forecast for the next few days promises sunshine and hot temperatures, so there's still time to take advantage now, before the shoes and jackets have to be taken out of storage.

_________________________
Petticoat Creek Splash Pad & Pool:

Un Oasis en Pickering
Después de lo que se sintió como una eternidad, uno de los lugares más populares entre los residentes de Durham Region reabrió sus puertas al completarse las extensas renovaciones que se le hicieran.  La piscina de Petticoat Creek era conocida como la piscina al aire libre más grande de Ontario.  Aunque ese dejó de ser el caso, fue reemplazada por lo que estoy segura se convertirá en uno de los sitios favoritos de chicos y grandes: La piscina y parque acuático en el área de Conservación de Petticoat Creek.
Este nuevo complejo acuático, que se extiende por 4,100 metros cuadrados, cuenta con un área con mangueras y estructuras para que los más pequeños vengan a chapotear un rato, dos piscinas planas para los más pequeños y una piscina con una capacidad de 800 personas con una entrada a estilo de playa y una profundidad máxima de 6 pies de hondo.   Este refrescante oasis es más escénico todavía por el hecho de encontrarse en medio de una inmensa arboleda y áreas verdes que se extienden a lo largo de todo el complejo.  Es realmente un lugar maravilloso para visitar y compartir con la familia ó amigos en una tarde relajante de diversión al aire libre.
El área de Conservación de Petticoat Creek  se encuentra en Pickering, al sur the Whites Road.  Este parque es parte del Toronto Region and Conservation Authority (TRCA), entidad gubernamental que actualmente promueve el proyecto Living City (Ciudad Viviente), con un mandato de asegurarse que la ciudad de Toronto "está construída con un fundamento natural de ríos y riberas saludables, áreas verdes, bio-diversidad y comunidades de desarrollo sostenible."  El complejo acuático de Petticoat Creek es uno de tres complejos similares en Toronto, junto con Heart Lake en Brampton y Albion Hills Conservation en Caledon.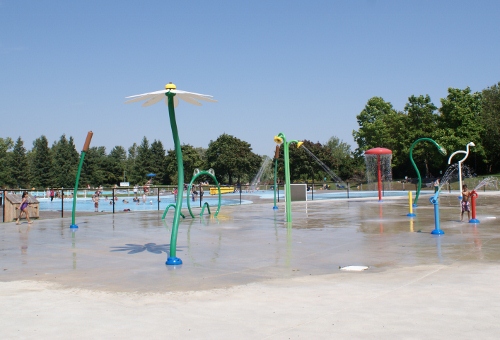 Si planea una visita a cualquiera de los tres parques acuáticos, es de notar que hay dos diferentes precios de entrada: $6.50 por adulto ($5.50 para seniors) para entrar al parque (los niños menores de 15 años entran gratis), y para entrar a la piscina se paga $4.75 por persona (niños de 2 años entran gratis).  Esto puede resultar un poco caro, dependiendo de cuantas personas visiten el complejo.
Para compensar por este costo, TRCA ofrece membresías individuales o familiares.  Una membresía individual cuesta $75 y la familiar para hasta cuatro personas, $135, lo que permite el acceso libre a cualquiera de los parques que maneja el TRCA, incluyendo Petticoat Creek, Heart Lake y Albion Hills.  La membresía ofrece tambien descuentos en admisión individual para entrar a la piscina ($2.75 por persona, pero tiene que presentar su carnet de miembro cada vez que visite la piscina).  Estas membresías son válidas por espacio de un año.  Petticoat Splash Pad & Pool y Heart Lake ofrecen tambien folletos con 10 pases por $38.  Este folleto cuesta $30 en Albion Hills.
Ahora que se nos va el verano y el complejo acuático cerrará sus puertas este Lunes, 3 de Septiembre, hay todavía mucho que hacer en estos parques.  Tienen lugares para hacer barbacoas y picnics, los que se pueden reservar o rentar para picnic familiares o actividades para grupos grandes con un costo entre $125 y $300.  Tiene varias áreas verdes y campos abiertos, veredas para caminar, trotar y explorar a campo abierto y tambien tiene acceso a la playa del LagoOntario; algo divertido para hacer en una cálida y fresca tarde de otoño.
Y porque no: mientras el calor del verano todavía está con nosotros, hay que aprovechar y visitar este complejo acuático en este nuestro último fin de semana largo del verano del 2012.  El pronóstico del tiempo nos promete mucho sol y temperaturas altas para los próximos días, asi que hay que tomar ventaja del poco tiempo que nos queda antes que entre el frío y tengamos que desempolvar las botas y los abrigos de otoño.