With April being Hispanic Heritage Month, it is a great opportunity for Alma Latina Online Magazine to share with our non-Hispanic readers some popular dishes in some Latin American countries.  Truth be told, even Hispanics may find some of these helpful, since a lot of our dishes may share some similarities, and at times they may even be the exact same dish, but they may have different names in Spanish and people from different countries might not know what something really is just by the name alone.  For example, rice and beans are a staple in Central American cuisine.  A mixture of the two is called Gallopinto in Nicaragua, Casamiento in El Salvador and Congri (red beans) or Moros y Cristianos (if mixed with black beans) in Cuba, but it is pretty much the same thing in all countries.
Pupusas are not one of those traditional meals that people may confuse with other dishes.   These Salvadoran delicacies are quite popular the world over.  Similar in shape to corn tortillas, but a little bit smaller and thicker, they are made of Salvadoran stuffed corn tortilla or flatbread (made using "Masa de maíz" or a maize-flour dough) They are stuffed with beans, cheese, chicharrón (pork rind), but some people do get adventurous and make them from zucchinis and other types of vegetables.  It is served with Curtido (a basic cabbage salad) and tomato sauce.  They're quite filling and very tasty.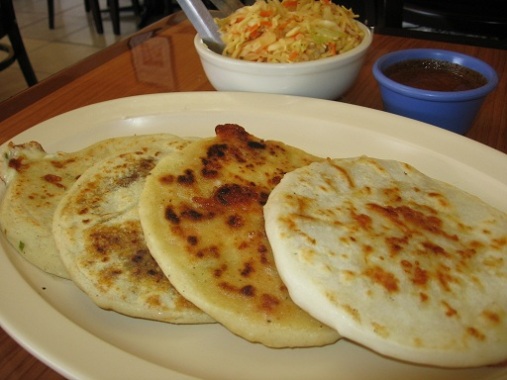 Nacatamales are a very well known dish in Nicaragua.  Similar to Salvadoran and Honduran tamales, though a tad bigger, they are made from corn or maize-flour dough, mixed and spiced with different ingredients and filled with meat (mainly fatty pork) and vegetables such as sliced potatoes, tomatoes and onions, rice, a couple of mint leaves and steamed in banana leaves.  It is customary to make these for special occasions, especially Christmas, but they are also very popular as a weekend breakfast meal.
As a proud Nicaraguan, I can't forget to mention something I myself have been making for years now and one of most popular desserts in Nicaraguan cuisine: Pastel de Tres Leches (three milks cake).  It originated in Nicaragua and it's steadily growing in popularity, especially in North America.  The sponge cake is made from a special recipe and then drenched in three different kinds of milk and sometimes topped with either whipped cream or atolillo (a cornflour-based custard) and cherries.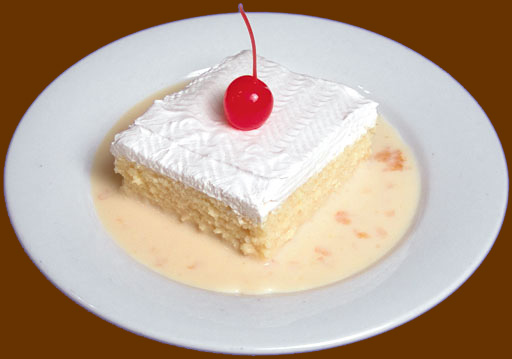 Mexican food is already quite popular in North America, and more and more people in Canada are already big fans.  Just like mainstream Canadians, Hispanics have also had to learn to distinguish the different dishes, as we also have very similar dishes in every country that may be named differently.  What we in Central America call tacos, for instance, are known in Mexico as flautas.  Nachos are a very popular appetizer in Mexican restaurants and I'm willing to bet that the majority of people in North America will be very familiar with their tacos, quesadillas, enchiladas and burritos. Luckily, there are many and quite good authentic Mexican restaurants in Ontario where people can go and try the immense variety of dishes this country has to offer– I personally highly recommend the Enchiladas Suizas, the one thing I'll always order when dining at a Mexican restaurant.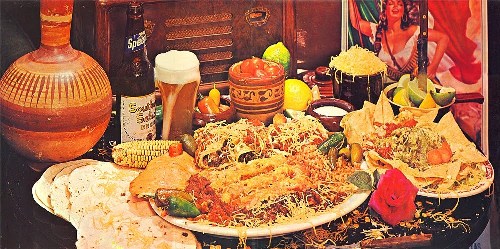 Venezuelan and Colombian arepas are a very prominent dish in these two countries' cuisine.  I just recently learned a little more about this dish myself.  It's made of ground corn dough (maizemeal) or cooked flour and it looks like a flat pupusa or tortilla (with a pinch of salt) and it can be grilled, baked, boiled, steamed and even fried into a thick bread, then topped with different types of meat, fish or shrimp, eggs, tomatoes, salad and cheese.  Breakfast egg or cheese are the most common arepa fillings.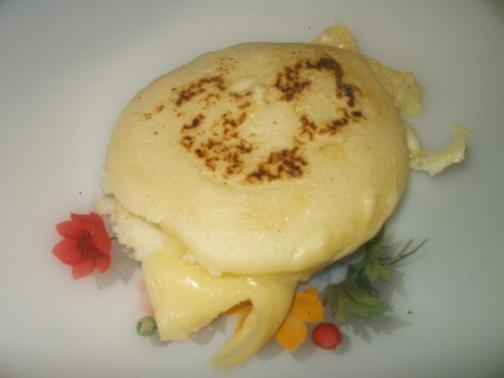 Empanadas are a favourite dish in Argentina and Chile.   Similar in shape, although smaller, than Italian Calzones, these stuffed (baked or fried) meat pies are a meal in themselves and very popular throughout Latin America, although its origin is said to be Spanish, most likely from Galicia, where the word "Empanar" means to wrap or coat in bread.  Juicy or stew-like mixtures of ground beef, chicken, ham and cheese, any type of fish or seafood and many vegetables (potatoes, beans, spinach, peas) are mainly used as fillings, though like pupusas, the possibilities are endless.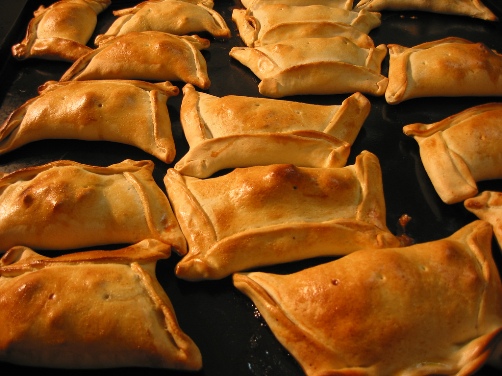 The Bandeja Paisa may be the best known typical meal in Colombia, especially in the Paisa region, from where it originates.  It consists of generous amounts of a variety of foods served on a bandeja (a platter or a large oval-shaped tray), which vary from red beans with pork, chicharrón (pork rind), white rice, ground beef, patacones or fried plaintains, chorizo, arepa, morcilla or black pudding, avocado, a couple of slices of lemon and topped with a fried egg.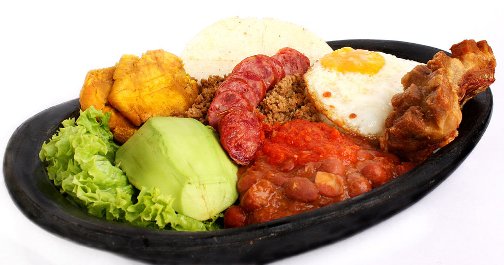 As a huge pastry lover (desserts are my downfall), when I discovered Peruvian alfajores (also found throughout all of South America) and Chilean cakes with dulce de leche filling I almost died.  Alfajores, a term that literally means "Luxury" and "Exquisite" in Arabic, are sinfully decadent shortbread sandwiches with dulce de leche in the middle and sprinkled with confectioners or powdered sugar.  Different people use different doughs for the cookie portions, such as normal flour dough, corn starch or cassava flour or a mixture of any of them.  Chilean, Uruguayan and Argentinean bakers often use dulce de leche as a spread for cakes.  Dulce de leche is a sweet caramel spread popular throughout Latin America and also known as "Cajeta" in Mexico and "Manjar Blanco" in Perú, Chile and Bolivia and "Arequipe" in Colombia. Again, these cakes are sinfully delicious and absolutely addictive.  Not for the faint of heart and the weak of willpower– present company included.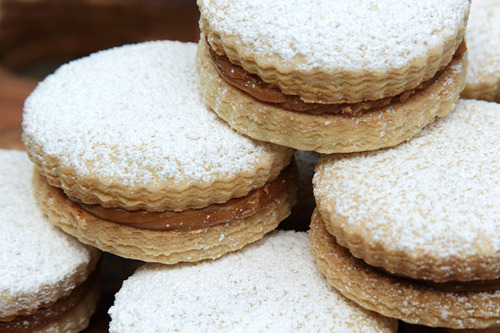 If you're a seafood lover and find yourself in the vicinity of a Peruvian or Ecuadorian restaurant, I highly recommend you order Ceviche.  This dish is believed to have originated in both these countries in Inca times and it is presently a crowd favourite, especially in the coastal regions of South and Central America. The fresh raw fish was originally marinated in "Chicha", a popular fermented corn beverage amongst the indigenous people before the conquest.  Spaniards brought citrus trees with them and chicha was substituted with lemon, lime or orange juice.  It is also spiced with finely chopped chili peppers and ají (Amarillo chili).  Additional ingredients include chopped onions, salt and coriander.  This dish is not cooked in traditional methods, but the raw fish cooks instead in the citrus juices.  It is very a popular cure (or so they say) for those killer hard-to-get-rid-of hangovers.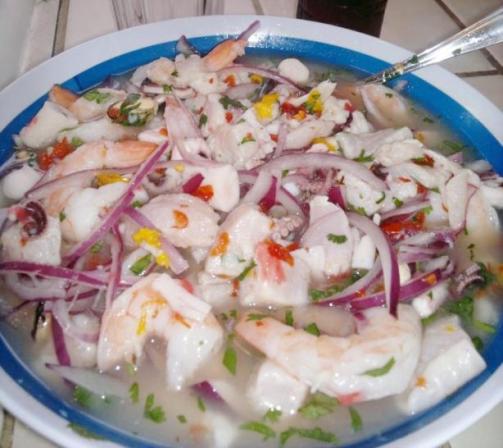 And we can't forget some traditional dishes from the Caribbean islands, like Cuba's Ropa Vieja (literally, old clothes), a shredded flank, brisket or skirt steak in a tomato sauce base.  This traditional dish is also quite popular in the Dominican Republic, Panamá and Puerto Rico, with some variations in the ingredients.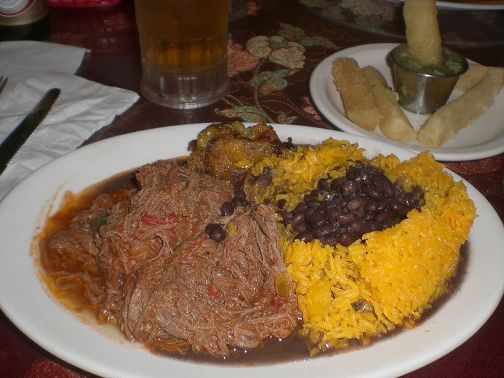 One more thing about the different names in our food that I just learned recently: Oxtail soup has many different names in all of Latin America: we call it "Sopa de Cola" or "Sopa de Res" in Nicaragua, but it's mostly known throughout Latin America as simply "Sancocho".   In Panama and the Dominican Republic, in fact, it is considered a national dish.  It usually consists of large pieces of meat (oxtail, beef, even chicken) and vegetables cut in large pieces and served in a broth.  Every country has different variations, but the basic ingredients are mostly the same.  If you ever visit a Latin American restaurant in the early afternoon on a Sunday, you'll see a lot of this soup being served because, just like ceviche, this is also a vey well trusted hangover cure.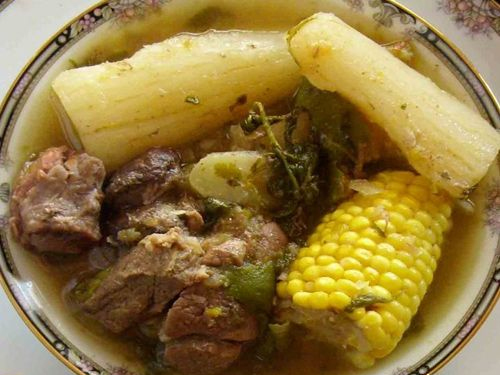 There are a large number of restaurants that offer Latin American cuisine in Toronto and its surrounding areas.  If you're feeling adventurous and want to try something new, check out the cuisine from all the different Latin American countries and give each one a try– or many tries, as there will most likely be a large variety of dishes.  Beware, however: Our food is so delicious that in many cases it can be quite addictive.  Like I said before, those pastries?  They are not for those weak of spirit who lack self-control– but food lovers?  This really is for you.