A recent study conducted in England is drawing attention to the benefits that living near water has on people's overall health and well-being.  Here in the Durham Region we are blessed to be surrounded by so many beautiful beaches, we can consider ourselves lucky to not only enjoy what we now know are the psychological benefits of residing near water, but we also get to play and have fun, and on a hot summer like the one we're experiencing this year, we also get to cool ourselves off without having to leave home.
It's no secret that many people are a little apprehensive or even afraid to swim in the waters of Lake Ontario.  However, the Region of Durham has taken the necessary precautions to advise its residents on a weekly basis whether it's safe to do so.  The Durham Region Health Department recommends that if you're planning a trip to any Durham Region beach, you should check its Durham Region Weekly Beach Report where you will be able to check whether the beach is open and fit for swimming or if a high level of bacteria has been posted.
The quality of water changes continuously due to environmental factors or weather conditions. Swimming is not recommended if you can't see your feet when standing in waist deep water and/or if it has rained two days prior to swimming.  If the health department thinks it's okay to swim in our beaches, rest assured you won't wake up with a third eye on your forehead or with a bright neon greenish hue the next day.
Following is a small showcase of a handful of the many beautiful beaches in Durham Region.

Ajax Beach
Rotary Park is located on the lakeshore, right between Harwood Avenue and Westney Road.  This park is definitely a kids' favourite.  The newly renovated splash pad is the perfect place to enjoy a hot, humid afternoon, and you can hear kids yelling happily and laughing as soon as you approach the parking lot.  It has a really nice large play area right next to it, and also a concession stand where you can get snacks, burgers, ice cream, freezies and other kids' favourites– the most expensive item on the menu is under $5 and freezies and popsicles are only a buck.  There's a running/biking path right along the shore and on a hot afternoon the beach is always a favourite for locals.  Some families also take advantage of the beautiful shaded areas to come spend an afternoon and have a picnic, a barbeque or to enjoy some outdoor fun and games.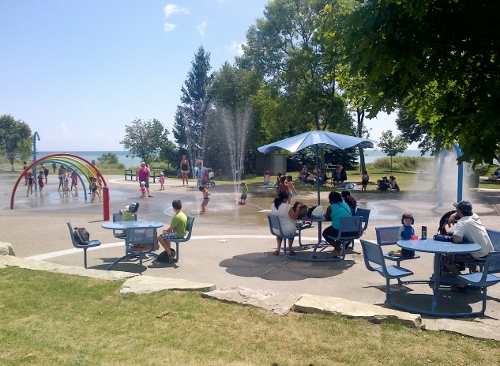 Pickering Beaches
You can find Millennium Square just at the bottom of Liverpool Road in Pickering.  This beautiful park is a favourite amongst Pickering residents, with many visiting on a hot summer day to enjoy the cool breeze off the lake, bring the kids to the park (which has 2 modern children's play units) and a splash pad area or simply to jump in for a refreshing swim in the lake.  The park also has some really nice picnic areas and a couple of beach volleyball courts.  Many outdoor concerts also take place here in the summer and just up the street, on Liverpool, many picturesque stores, cafes and ice cream parlours can be found, as well as two of Pickering residents' favourite restaurants: the Waterfront Bistro and the elegant Port Restaurant, both with amazing lakeside views.
For those who prefer a quieter, calmer place, and if you rather enjoy a nice, quiet afternoon sitting by the lake, you can also visit the Rotary Frenchman's Bay East Park.  There is also a smaller size play area for the kids here, a gazebo and picnic tables, but there is no swimming and people like to come visit for a nice, quiet afternoon, to enjoy the soothing, calming effects of the water and to watch the sun go down.
Lakeview Park Beach (East & West) in Oshawa
The beach at Lakeview Park, located south of Simcoe Street, stretches along a sandy shoreline, surrounded by a very large play area, soccer fields and softball diamonds.  It's not surprising to find the place packed with beachgoers and families or large groups who come here to enjoy a nice afternoon in its many picnic areas, to enjoy a live music performance, or even catch a movie or fireworks during the summer months.  It's a very large park, with many walking trails, viewing platforms and benches spread out throughout, where Oshawa residents and visitors can come and get to know the area at their leisure.
Whitby Beach
Iroquois Beach Park is located just west of Brock Street, at the south end of Gordon Street, and it sits right across from the Port Whitby Harbour.  Lots of green areas to enjoy a nice summer stroll or to bring family and friends for a day of picnicking and leisure along the long sandy shoreline.