They say that misery loves company and exercise is one of those painful activities that's best shared with those who are suffering from the same affliction: the desire to lose weight, find some much needed energy we all seem to be lacking in our busy lives and the oh-so-human need to feel good about ourselves.  Finding a group of women (or people) to share not just the suffering but also the common goal of health and overall goodness was exactly the gift the health gods gave me when I joined the Zumba class that the Hispanic Canadian Alliance of Ontario (AHCO) started this spring.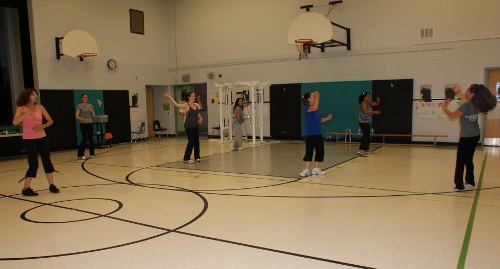 Every Thursday night Claudia Burgess, AHCO's Zumba instructor, would make us sweat, dance, move and bend in places that we never knew we were capable of bending, jump, shimmy, wiggle, wine and move to the rhythm of salsa, cumbia, reggaeton, zamba and all the different Latin beats under the sun.  This is the first Zumba program AHCO has put together and it was a complete success as week by week we all showed up for this self-inflicted but so much fun torture session.  We had some good laughs trying to learn the choreographies (yes, I never knew Zumba numbers each have their own choreography) and I'm ashamed to say I probably didn't learn them at all, busy as I was trying to figure out where my left foot was and why my right arm just plain refused to raise above my hip.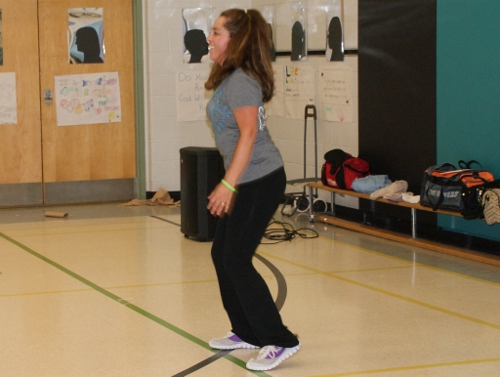 I attended a Zumba session a few months back at the St. Mary CSS Benefit for Learning for Hope, where Harmony Center's Zumba instructor, Linda, and her crew put what seemed hundreds of St. Mary students, parents and community to dance and exercise non-stop for over an hour.  The experience was absolutely exhilarating.  Linda and her crew's energy and enthusiasm just seemed to permeate throughout the entire room and that night we all sweat and worked out like never before.  The funny thing is, though, it didn't feel like a work out.  It was so much fun that it felt more like a party where everyone was dancing the same songs in the same way.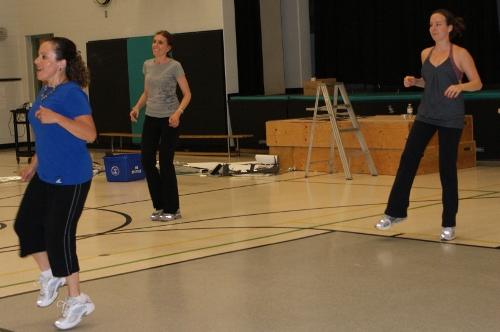 So when I joined the Zumba class on Thursday nights I had a pretty good idea that it would be like going to a party every week.  The camaraderie and the sense of being in it together, for good or bad, with the other women (or men, we just didn't have any brave ones join us this time) in the group makes the experience all the more enjoyable.  I also found out the hard way that percussion, especially in Latin rhythms, can be your best friend or your worst enemy, depending on what the overall purpose of the workout is for you or what your threshold of pain you can endure actually is.  The payoff of working out hard is astounding, though.  You feel so much energy and zest for everything after attending each class.  Sharing the pain, like I said before, is made easier because you know you're not going through this painful experience on your own.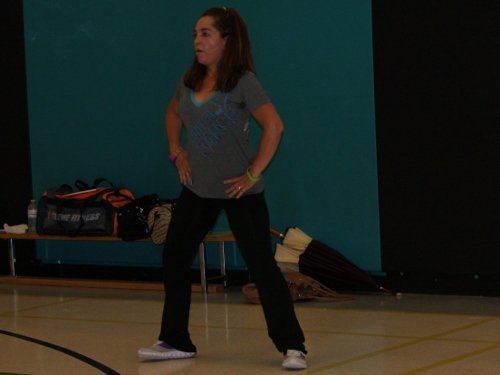 All in all I very much enjoyed the whole experience: not just the workout sessions (which all kidding aside were not that painful, but it made us sweat and work hard– our aging muscles will be forever grateful for it, though).  But getting to do what felt like dance and partying every week with a wonderful group of people made the experience a lot of fun as well.  I am now looking forward to hopefully continuing the program in the summer (if the summer program gets enough participants) or if not then in September for sure.  The Zumba program will take place every Thursday at St. Catherine of Siena in Ajax. Check AHCO's website for upcoming info.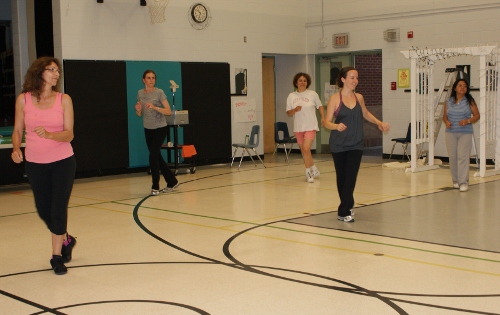 _________________________
El Programa de Zumba de los Jueves de AHCO
Dicen que la miseria compartida es más fácil de sobrellevar, y hacer ejercicios es una de esas actividades dolorosas que se sobrelleva mejor cuando se comparte con aquellos que sufren la misma aflicción: el deseo de perder peso, de encontrar un poco de energía en estas vidas tan caóticas que llevamos y la necesidad tan humana de sentirnos bien y saludables.  Encontrarse a un grupo de mujeres que comparte no solo el mismo sufrimiento sino también el deseo común de llevar una vida saludable y sana fue exactamente el regalo que me enviaron los dioses de la salud cuando me anoté para participar en la clase de Zumba que la Alianza Hispano Canadiense de Ontario inició en la primavera de este año.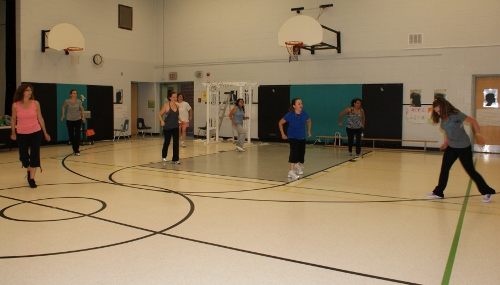 Todos los Jueves Claudia Burgess, la instructora de Zumba de la AHCO, nos hizo sudar, bailar, movernos y doblar lugares de nuestro cuerpo que ni idea teníamos se podían doblar, saltar, menear los hombros, contonearnos y movernos al ritmo de salsa, cumbia, reggaeton, zamba y todos los diferentes bailes Latinos que se conocen.  Este es el primer programa de Zumba que la AHCO ha iniciado y fue bastante exitoso ya que semana a semana todas llegábamos a nuestra divertida sesión de tortura y auto-castigo en la que todas participamos voluntariamente.  Tuvimos momentos divertidos tratando de aprendernos las coreografías (si, Zumba tiene coreografías, cosa que yo no sabía) y me avergüenza admitir que probablemente no me aprendí ninguna en el transcurso del programa, tan concentrada estaba en asegurarme que mi pie izquierdo todavía estuviera en su lugar y en mi pelea constante con mi brazo derecho porque se rehúsaba firmemente a levantarse más allá de la cintura.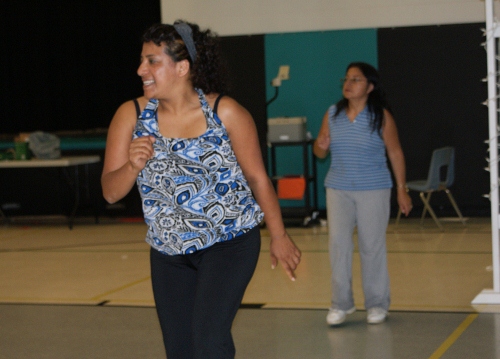 Había atendido una sesión de Zumba meses atrás en el instituto de secundaria St. Mary como parte de un evento benéfico montado por Learning for Hope.  La experiencia fue super estimulante.  En este evento la instructora de Zumba, Linda de Harmony Center, y su grupo pusieron a lo que pareció cientos de estudiantes, padres y miembros de la comunidad a bailar y "zumbear" por más de una hora.  La energía y el entusiasmo de Linda y su grupo parecieron absorber a todo los asistentes por completo y esa noche todos sudaron y ejercitaron como nunca.  Lo divertido es que no se sintió para nada como si fuera ejercicio físico, sino más como una fiesta en la que todos bailaban al unísono al ritmo de una misma canción.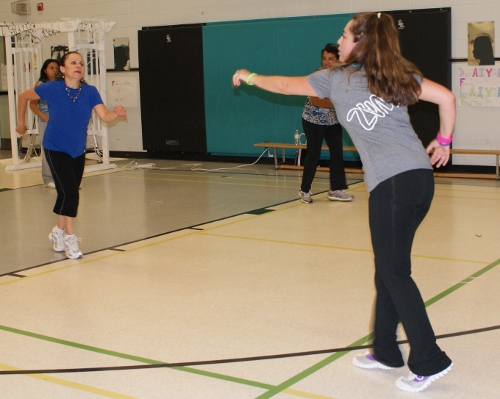 Cuando me anoté para participar en la clase de Zumba de los Jueves, ya tenía entonces una buena idea que sería una fiesta semana a semana.  La camaradería y el hecho de estar todas juntas en el mismo bote, por asi decirlo, con el resto del grupo hace que la experiencia sea muchísimo más divertida.  También me dí cuenta que la percusión en los ritmos latinos puede ser tu mejor amigo ó tu peor enemigo, dependiendo de la situación ó de cuanto sufrimiento tus cansados huesos puedan soportar.  Eso si, la compensación después de una ardua sesión de Zumba es asombrosa.  Sientes una energía y brío inigualables después de terminar cada sesión.  El dolor compartido, como dije antes, hace la experiencia más diluíble, ya que te das cuenta que tus pobres músculos no son los únicos que pasan por esta experiencia dolorosa.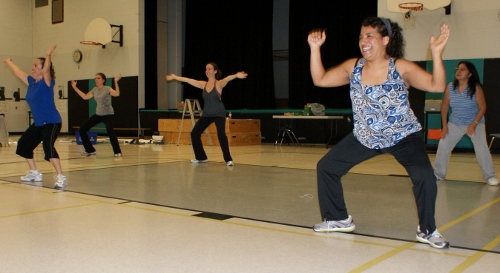 La sesión de primavera dio fin en Junio y disfruté muchísimo de la experiencia.  Ya fuera de toda broma, el ejercicio en sí no es nada doloroso, pero si nos hizo sudar y trabajar fuerte– aunque estoy segura que nuestros cuerpos nos lo agradecerán por mucho tiempo.  El hecho de poder bailar y rumbear cada semana con un bonito grupo de personas hizo de la experiencia algo muy especial.  Ahora espero poder continuar con las sesiones en el verano (si es que el programa llega a contar con suficientes participantes) o si no cuando re-inicie en Septiembre.  El programa de Zumba se lleva a cabo todos los Jueves en la escuela primaria St. Catherine of Siena.  No deje de chequear la página de la Alianza para más información.